PSALM 8:2 
Out of the mouth of babes & infants You have ordained Praise, because of Your enemies, to silence the foe & the avenger!
Psalm 8:2 is such a powerful reminder of one of the most important spiritual weapons that we as believers have available to us!  That being our very PRAISE OF GOD!!!  The Word reminds us that the weapons of our warfare are not of this world.  The sacrifice of the praises from the lips of the born again believer offered to our Lord & Savior, Jesus Christ offers us the opportunity to silence, Satan the god of this world, and his demonic sidekicks as they seek to rob, kill, steal and destroy!!!! (John 10:10)
As an example I love the story of King Jehoshaphat (2 Chronicles 20)!  The King discovers that his Kingdom is under siege by multiple invading armies!  King J's first reaction is to seek the Lord so in doing so he gets word from the prophet that God has instructed him that he will not have to fight but that the battle belongs to the Lord!   In response Jehoshaphat prepares to go into battle by having church!!!!  After uniting his Kingdom to Seek & worship God The Lord instructs King J to "put your singers first in front of the rest as they proceed!'  as they moved forward singing praise to God to confront the Moabites, Amonnites, the parasites & the mosquito bites  they must have been overwhelmed to see their enemies begin to fall into confusion & turn to kill one another!!!
I like to paraphrase Psalm 8:2 as follows...  "Your praises offered to God have the anointing to SHUT UP THE DEVIL IN YOUR LIFE!!!  Yes!!!!  So, the next time you find yourself in the midst of a spiritual battle, remember the promise of Psalm 8:2 and lift up a praise to God almighty certainly not for your troubles, but rather in spite of them, and in faith get ready to give God yet another praise for the way in which he supernaturally provides you with the victory!!!!   PTL!!!!!

This is what I'm talking about!!!  Just came across the following modern day example of the Psalm 8 :2 principal...  So c'mon church, put this biblical principle to work!!!!
'Every Praise': Kidnapper Releases 10-Year-Old Who Won't Stop Singing Gospel Song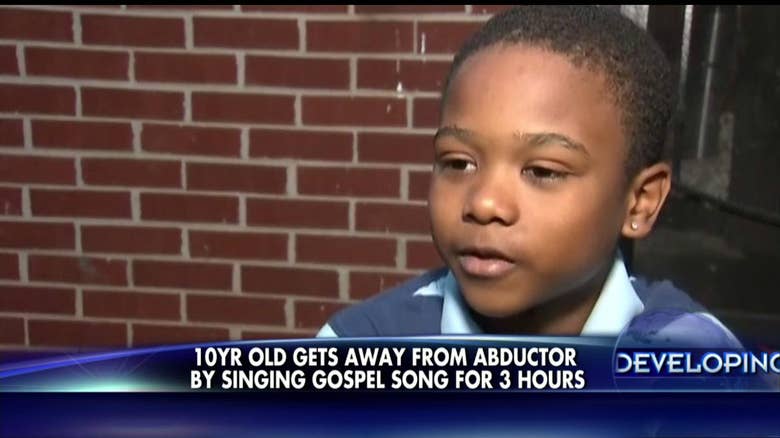 A gospel song saved a 10-year-old Atlanta boy from his kidnapper. Willie Myrick said he was in his front yard and bent down to pick up money when somebody grabbed him and threw him in a car!
Thank You Lord for the power of your promises!!!!!!!

SLA & Celebrate Ministries